Inside the Biden climate plan
What's Joe's hot take?
A look inside the Biden climate plan
60 days until the election! Are you ready? Reply to this email if there's anything I can help you with!
This month's Changeletter is going to be on the Biden campaign's climate plan. I was initially going to include an impartial look at both candidates' takes on the matter, but... only Biden has a take, really. I guess it's technically still impartial.
A quick note about before we start: I don't believe news can truly ever be "neutral". I do, however, curate the content in these newsletters without creating or finding facts of my own, so I hope this will be an informative, ""impartial"" overview of the Biden climate plan: good, bad, and what we can do to continue holding the campaign accountable - especially if Biden is elected and the plan becomes reality.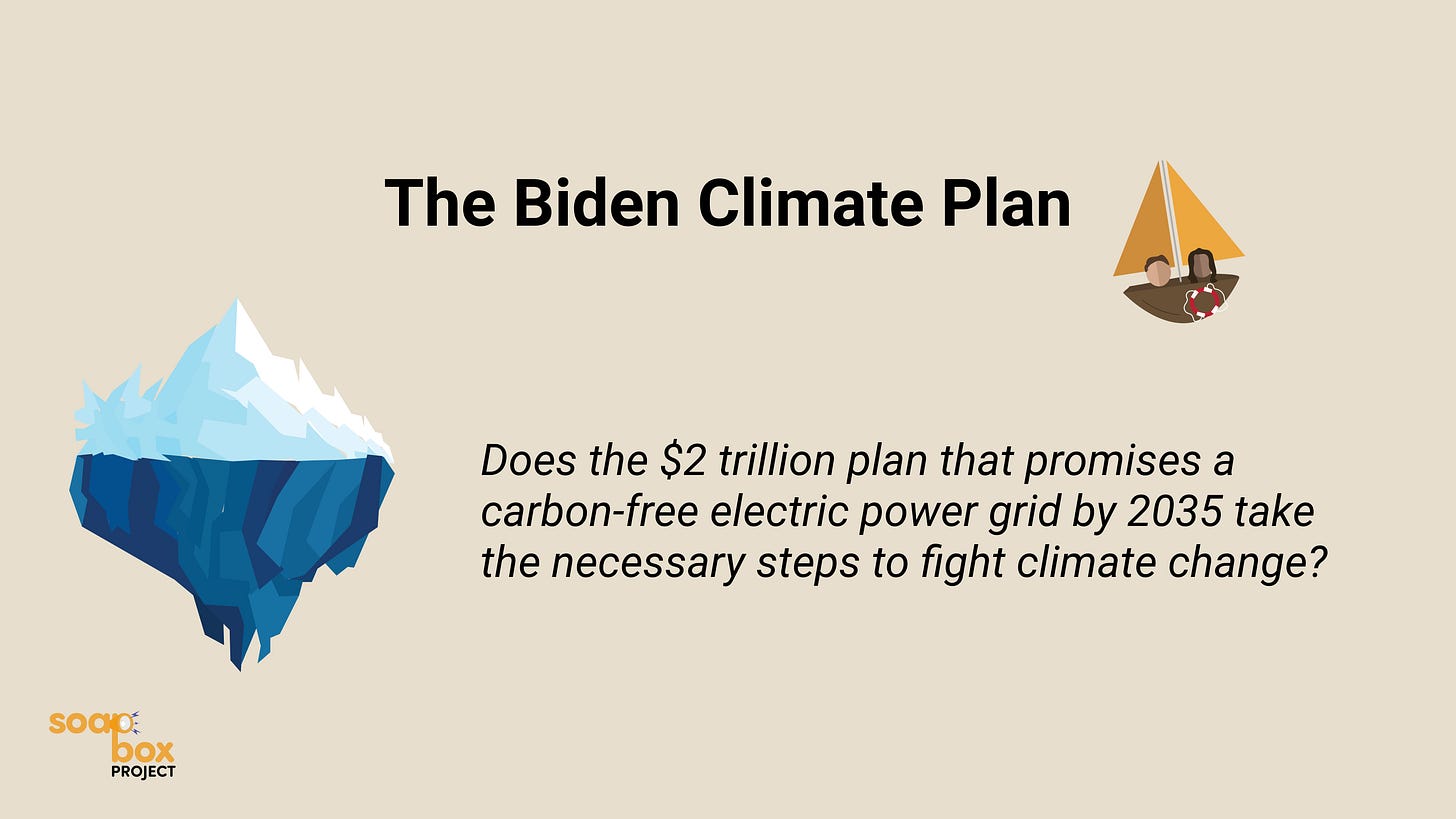 Remember to vote by mail as early as possible if your state allows it and please, please check that you're registered to vote. It's extra important to make sure your non-internet-using family members are registered too - even if you disagree with their beliefs. I've also signed up to text bank for the Biden campaign and I also joined the NAACP Civic Engagement program which took ~20 seconds.
Note: this newsletter contains no official candidate endorsements, but you might see some in the coming weeks.
---
Joe's hot take
Here, I'll lay out some positives of the $2 trillion (yes, TRILLION) climate plan, what it's missing, and who's involved. I'll let you decide on your own if it's #MoMoneyMoProblemz or if the plan will get us where we need to be.
First, a random fact: "Climate" is mentioned only 28 times and "jobs" is mentioned 53 times. Joe's trying to position this as more of a jobs bill than a climate bill - he's actually linking economic recovery from COVID times to fighting climate change. Let's hope it works and creates a win-win!
RollingStone gives a pretty good overview of the plan and its drawbacks:
The good
a carbon-free electric power grid by 2035

providing cities with a population of 100,000 or more with zero-emissions public transportation like light rail, electric buses, and infrastructure for bicyclists

creating 1 million new jobs in the U.S. auto industry by incentivizing the switch from internal-combustion engines to electric-powered vehicles

upgrading 4 million buildings and weatherizing 2 million homes for energy efficiency

pledging that disadvantaged communities would receive 40 percent of the overall benefits of spending on clean-energy and infrastructure upgrades
The bad
Silent on fracking, presumably because fracking is "beneficial" to economic recovery. But the costs of fracking are often borne by communities of color

Focus on technology over political power: it's not clear how power will be redistributed to communities of color, who disproportionately face the impacts of climate change and are disenfranchised from the decision-making process

No mention on carbon price. "Most economists agree that dealing with the climate crisis in a serious and transformative way requires legislation that puts a price on carbon... Biden's plan, for obvious political reasons, is silent on what kind of carbon price he might support, or, more important, how much political muscle he will be willing to exert to get one."
The people
I'll let you read this article from The Intercept, but... some of Joe Biden's climate advisors embrace fossil fuels and fracking. The $2T commitment is great, but when it comes down to it, the administration is going to need someone to hold it accountable. Biden's advisors may not be up to the task.
But we are!
---
What does this mean for voters?
This climate plan is ambitious AF. But this - and politics in general - requires us to be vigilant and willing to hold our elected officials to their word. I'm optimistic because of how much grassroots, youth-led movements like Sunrise Movement influenced this plan, and I'll tell you what else you can do in the upcoming weeks.
---
Upcoming
Next week, I'll share a podcast that expands on some key details of the climate plan. The week after, we'll dive deep into taking action!

Refer a friend! Everyone who forwards or shares this post with 5 friends will get a special gift from our team.