Super secret announcement
How does it feel to be the first to know?
Hi everyone! You might notice this email looks a little different from our usual ones. It's because I'm switching to a different newsletter platform - so many of you told me you couldn't see my fun vacation photos from last week and that made me super sad.
I hope this works better and sticks less of Changeletter in your promo/spam folder. Cheers.
As you might have noticed, today is not READ / LISTEN / ACT / REFLECT since we covered those. Instead, we have a bonus week! I hiiiiighly recommend you watch the 6-minute Nat Geo video on how plastic is made from the Listen module. In my opinion, it's the best Listen module in Changeletter history. Here's our archives if you want to catch up.
What's the secret?!
Okay. I want to share with you a super secret announcement.
Soapbox Project, our startup that makes this newsletter possible (which is really just me and my team) is launching our next initiative: Action Abridged. We're launching it publicly next week; this announcement is just for you.
Here's the lowdown.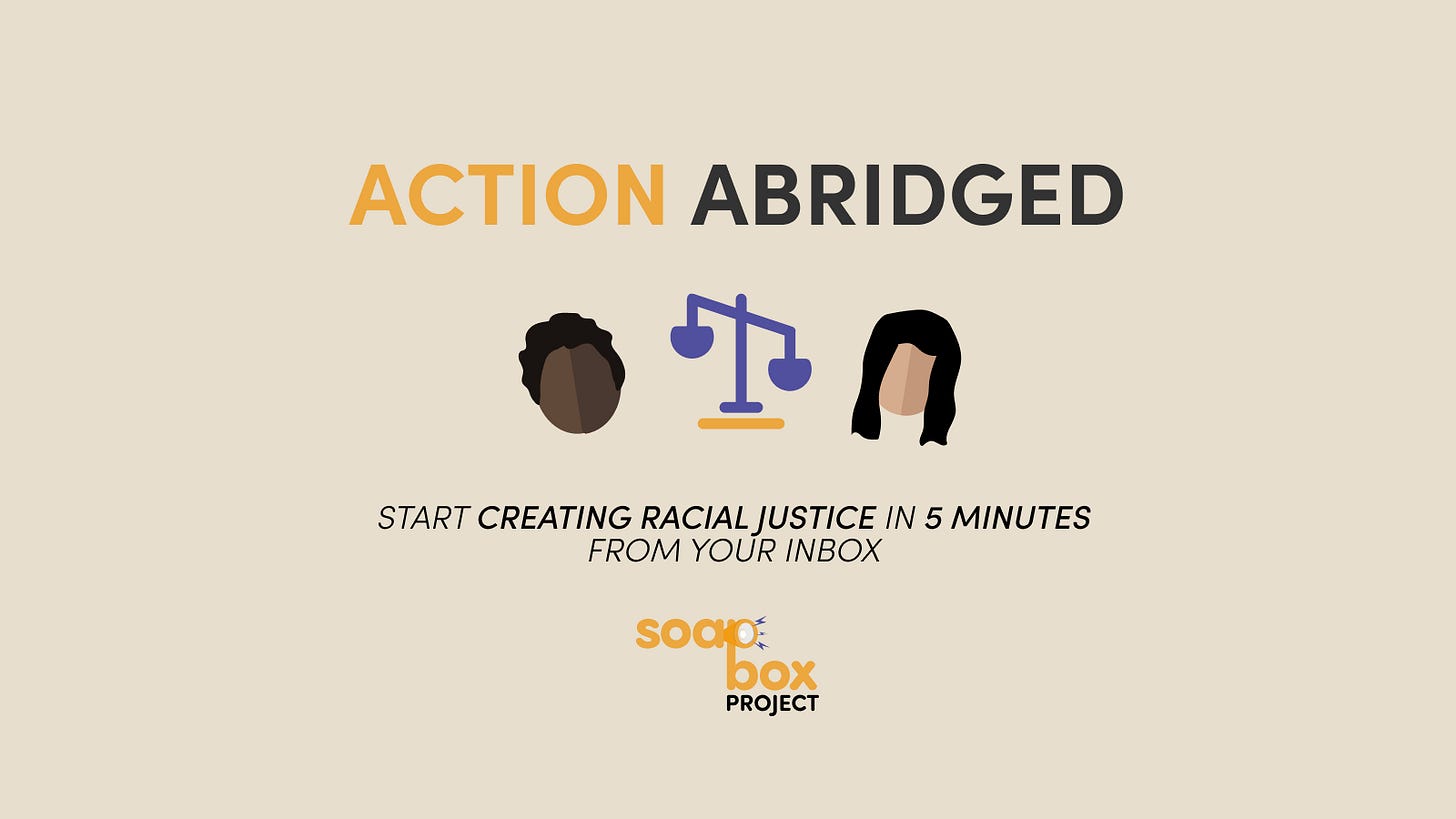 (Alt text: Action Abridged | Start creating racial justice in 5 minutes from your inbox - Soapbox Project)


Action Abridged is a fixed-length, actionable newsletter that summarizes 10 powerful books about racial justice in 5 minutes. We're leveraging the expertise of Denese Duran, founding member of AmendThe13th NJ - she's writing on you how you can tangibly apply these experts' findings at your company. We list specific non-profits you and your company can partner with, tips to support ERGs, coaching recommendations, policy measures you can back, and more.
You can find out more about it and sign up here. I've listed all the books, and if you sign up by the end of next week, I'll also send you three free summaries + action plans for Seeing White, 1619, and 13th on Netflix. You can sign up for free and decide if this is something you're into after reading the three summaries - no card required. Also, we're donating our profits to Color of Change, so you're being informed + taking action+ donating all at once!
The 10 book summaries are only $5 each and we're doing a lot of research on the action part. Election season is less than 100 days away, and Denese and I are here to help create racial, social, and economic justice.
Upcoming
Plastic Free July is almost over but we snagged you a discount on Simply Straws - SOAPBOX20 will get you 20% off till September 30!

August is National Water Quality Month. We touched on this a bit when we were talking about environmental justice, but now we'll get a deeper dive into why this topic matters. Shoutout to our reader, Soli, for recommending this topic - I really do read all the replies I get.